A Guide To Blowout Sax Gigs and Live Perfomances



The Blowout Sax Schools of Bath And Bristol have been putting on it's sell out gigs at The Chapel Arts Centre for over 12 years now.
The incredible aspect of this is that over 70 saxophonists of all ages, sizes and abilities will get on the stage and display their talents in front of family and friends and a live audience accompanied by a top class band .

This for many students is fulfilling the ultimate dream.
It is always a remarkable, original and inspired evening.

I should say THANK YOU for all effort, organisation and skill put into this gig. Major triumph of enthusiasm and teaching. Terrific backing band, doing wide range of styles.
My friend Tom said he'd never seen his lovely fiancee Anna dance before, but "Nightboat to Cairo " did it!



So well done you, and thank you for putting all this effort in. It's a complete one off in my experience, and it really makes Bath a better place to live.

William Heath

Some of the greatest moments from The Blowout Sax gigs from the past 5 years are on Youtube see-

The Blowout Sax Channel

These Blowout sax gigs tend to display the more flamboyant side of the sax.
Many of the tunes selected are from Mark's books. From Blowout The Greatest Pop Sax Of All Time are wonderful performances takes of

'Will You',

'Baker Street',

'Lily was here',

'The Pink Panther', and from The Blowout Two Tone Sax are the evergreen

'One Step Beyond',

'Night Boat to Cairo' and

'Food for Thought'.

A tune taken from The Blowout Sax A Revolutionary Approach To Learning The Sax you can see the younger members of Blowout play a stonking rendition of

'When The Saints'.

From Blowout The Kings Of Jamaican Sax and Blowout Two-Tone Sax are a few examples of The Skatalites with a sample of the

'James Bond',

'Confucious' and

'Independent Anniversairy Ska (I Should Have known Better)' and students playing two Tommy McCook classics

'Riding West' and

'Tommy Rocksteady'.



Other impressive student performances include the legendary

'Green Onions' and from The Blues Bros

'Sweet Home Chicago' and even BB King's

'Thrill is Gone' gets a saxophone twist to it. Included in the book Blowout Blue Sax these are a merely a taste of some of the inspirational tunes we teach at Blowout Sax.

Compiled in a hi-energy funkfest Blowout Fat Funk you can see powerful performances of JB'S 'Cold Sweat' and

'Soul Power' and the ever popular

'Pick Up The Pieces'.

Inspired from the book written by Archer on King Curtis entitled King Of SoulSax is the spine-tingling take of

'Whiter Shade Of Pale'.

The book Blowout Sax Epics includes a take of Maceo Parker's wonderous

'Children's World' and here two stellar students take it on.

From Blowout Brother SoulSax comes the Stanley Turrentine flavoured take of

'Walk on By'

Other wonderful tunes represented on Youtube the sublime

'Mercy Mercy Mercy' from the very beautiful book Blowout Late And Spiritual Sax to the ridiculous of a tune entitled

'Green Jeans' one of many from The Blowout Honkers Swingers And Screaming Sax. On a similar path is Sam Butera's

'Wailin Walk' from Blowout Wild Cool Swingin' Big Horn Sax.



The jazz side of Blowout is displayed in excellent takes of

'Blue Bossa' , 'Caravan' and

'Take The A Train'.
To show you a display of one of our crazy finales from the book Blowout Saxperimentalists the students play

'Deckchair'.

15 Top Tips to Improve Live Performance from The Greats

Know your songs/melodies inside out and absorb the lyrics for greater insight.
On stage, move about looking for the Sweet Spot,' where the sax projects better, and the sound is more friendly.
Move around the stage when the music is lively. With the advent of with clip-on sax microphones this is easier. Maybe sit down to look supercool for the slow ballads.
Have the showman look e.g. glasses, hat, groovy shoes...
Have a trademark signature way of saying Thanks' whether with words or a way of holding out the sax.
For dance gigs cajole/bully an audience to dance. Tell an audience to enjoy themselves and they will.
Try starting a gig by walking on through the audience playing and maybe leave that way too.
Have a band of musicians who inspire you and you them.
Try to get into a trance so you feel the notes coming out of the sax in a 'natural' way. Try to develop a 'relaxed concentration'. If you really know the song's melody and have it 'under your fingers,' you can really enjoy yourself and let it go! Don't play the saxophone let it play you!' If you make a mistake ignore it and remember only you are analyzing your performance. Never wince or acknowledge it.
During rehearsal, record all different takes so that you can analyze your performance and improve your playing. The better you rehearse the more you can enjoy the gig.
When playing live mix up musical styles, so the audience can't guess what's coming next.
Play what you think people will understand and be melodic. 'Keep your ears close to your heart'.
When accompanying singers, the idea is to make them look good.
If you wanna be a showman/woman, during a gig play from a crouch, standing or even lying on your back. During certain songs walk in and out of the audience playing too.
Your music and your sax are unique: they are you, your character. So, be individual, and be true to yourself .
<!- Mr Blowout Sax Blog Button ->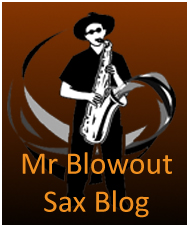 <!- Licensing Button ->