The Joy of the Big Blowout

'Blowout Sax :The Big Blowout Guinness Book of World Record'

Teaching on the following Monday I recorded many of my students feedback on The Big Blowout. Looking at the super quickly developed photos of Trish Wooding as she said:~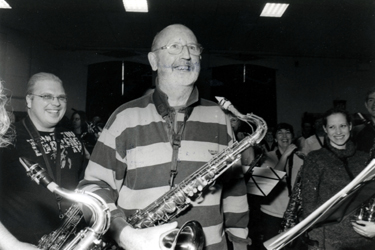 "Everyone's happy before but look at the totally different facial expressions after...'We did it!'I got knocked flying when someone behind me hit me on the back 'cus the music wouldn't stick to my clothing!!!"
For many that was their debut saxophone public performance in a world record in front of 25,000 people! Other great comments Of the World Record Breakers that week.

'It was kickarse. I was on a high all weekend.'
I stood on a chair at the back and could see a vast crowd. The adrenalin rush was incredible…superb.'
JP Hartfield.

'The best bit was when you first came on you could see they were all really waiting for it… ready to see and hear it a world record in action…they didn't stop clapping. They could hear it a mile and a half away at Englishcombe Lane!!!'
Will Cini.

"We had a wicked time…the best bit was PeeWee playing…it was such a high…the best opening to the Bath Festival ever…."
Emily Bradshaw.

"Was being at the front, with all the crowd, it was the biggest buzz in the world! And it all came together."
Jay Rosling.

"Standing in front of all those people and the impromptu holding of the Saxs up in triumph, it's going in my little book of wonderful things in my life…still on the first page though!"
Kev Jones

"It took 6 texts to get Steve Wright to read out 'Good Luck to The Big Blowout Sax on Friday from the Chippenham possee…the best bit was the fame walking through the crowd."
Paul Jones.

"Raising the saxs, and talking to PeeWee signing a reed for my daughter Florence. The atmosphere was electric…"
Sarah Maya

"Warm and enthusiastic reception from the crowd.. personally it was being the seeing dog for the blind man Mark Austin. I used to have a blind friend so I was quite relaxed about it…I went up to PeeWee and said 'it's the first time I've seen you since 1967 playing at Sacramento with James Brown…!! "
John Dottridge.

'After the dress rehearsal, as soon as I turned on the Radio 2 and there was Steve Wright saying Mr Mark Archer is going to break the World Record… and I was screaming with delight…then the next day I turned on the TV and there we were on HTV news..
Jane Clulow.

"I thought it was a testimony to your friendship and the way you treat people, the way you care for people the way you're friendly to people. People turned up for you, and the school. I don't think they were that bothered about breaking a world record, but they are bothered about you…it fell together through your charisma thing. Good on you."
Vickie Brooks.

"It was a good night...I was there for the cause...The ever smooth Colin stood behind me and said I'm gonna stand behind you as you are the only one I can pin all 3 sheets on...also the amount of people who have come up to me from having seen me on TV from the first Pavilion rehearsal...apparently when we starting playing everyone stood up for our performance except my boy who lay down on my case and listen to it and then fell asleep!"
Big Jim Linfield

"it was impressive…when I turned around with a sea of saxophones and happy faces…"
Suzanne Holmes.

"..an amazing experience playing with all those saxophonists.. "
Patrice our Martinque/Frenchman.

"mint..cool."
Tom Holst our German Blowout Sax student.

"awesome..it was thrilling to be part of this big big band.. the sound was resonating on your instrument at the same time, as it vibrate with the same sound...."
Luca De Matris Our Italian Blowout Saxman.

"just being there was something else.. the noise was incredible...unless you were there it's so difficult to explain.. I took a lost Aussie doctor up there who had only been in Bath a few weeks….my wife who is heavily pregnant was there for the dress rehearsal and the baby was kicking constantly all the time we were playing...
When I left at the end I only had a few pints in my own bar, me missus had gone to bed and I put the music on CD and on listening to it again on my own in the dark, I was just buzzing, I really was."
Vincent Box.

"People travelled from far and wide to come and play…"
Jon Starks.

"The best bit was meeting everyone who played the saxophone…I fell off the stage which was embarrassing but I wasn't carrying my Sax, a friend was!!!
The other funny thing that happened was 6 people looking at the same sheet of music, with the alto player transposing on the spot, and the sheet then blew away!!! "
Lottie Wookey

"When Evan stuck his paper on me back. The wind blew up and the paper stuck to the side of my face!!...my bit of fame, where were you, there with a bit of A4 stuck to the side of your face trying to read the music."
Kev Lynch

"It was nice to be part of something special.. the wind came up while we were playing so the music blew up so you couldn't see it!! That idea was mildly flawed. It was blowing up so much that the bloke in front of me just ripped it off and threw it on the floor." "There was a chap I met who works in Portishead, and he said I'm sure I recognise that woman. She works where I do. When he spoke to her, he found out she hadn't played for 20 years, saw this on the TV, got her sax out again and now wants lessons to play again."
Pete Bailey.

"It was fantastic to see the final result. We had a whale of a time. The crowd got really involved in it, clapping with the last piece of music, big cheers."
Andy Palmer.

" Listening to PeeWee was amazing. Really exciting playing for all those people who are screaming for you. Makes you want to play loads of things you weren't allowed 'cus of Guinness' world record rules."
Jack Harvey.

"What an adrenalin rush.. it felt like being Robbie Williams.. I thoroughly enjoyed being part of a group one family even though you didn't know half of them, one common cause.."
Julian Boswell Other feedback were via email:~ "Thank you for thinking up and organising The Big Blowout and for giving me the opportunity to take part in such an awesome experience.
It was great and I had a fantastic time."
Jan Pegler.



<!- Mr Blowout Sax Blog Button ->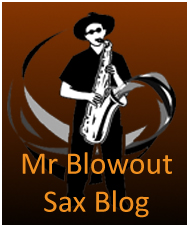 <!- Licensing Button ->