US Vintage sax



If you want a horn to sit in your home and tell you tales of where it's been and what it's done, one of these US vintage saxes is the horn for you. Unlike many of today's shiny but thinner sounding saxes, US vintage saxes are often the product of considerable originality of design and offer a variety of sounds. If you are prepared to shop around, they provide a great opportunity to get something classy at the price of a student model.

Be aware though that there are numerous manufacturers, who made many different models, right up to the mid-1960s. To guide you in your choice, below are our recommendations for good quality US vintage saxes, based on our experience as active gigging, recording, teaching and seasoned professional saxophonists and what we have sold here at Blowout Sax over the years. But the ultimate decision lies with you to buy what you fancy and feels right for you.

Our recommendations are :

Conn Ladyface
King Zephyr ..lovely underrated sax
Martin ..called many other names Imperials..Wurtlizers.. lovely smooth sound and honeyed sound instrument.
Buescher Trutone and Aristocrat 400
Vito worth checking to see whether made in the US Or Japan
Holton
York


US saxes manufactured and made by Conn were played by US jazz legends Lester Young and Gerry Mulligan. Conns of note are 'Pink Ladyfaces' and 'Underslung'.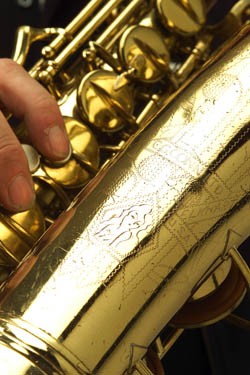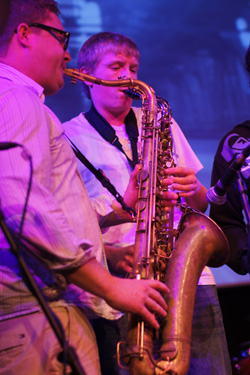 Craig playing his Conn Ladyface Tenor

Blowout Sax's US jazzman, Craig Crofton, plays a Conn 10-M Pink Lady tenor with a David Guardala mouthpiece. It is fully reconditioned and the lacquer has gone off two thirds of the instrument, which gives it its rich, dark tone. Conn's of this era were made with heavy brass, and bells were bigger than horns of a later era. This provides a loud projection, good for big bands and anything else for that matter. As Ray Colomb said these desirable saxs are 'the American version of the Selmer Mark VI.'

Buescher Trutone and Aristocrat 400 are lovely to play; light and magnificent pieces of craftsmanship and beauty and are often available at bargain prices.
Equally, the Martin has a smooth, honeyed sound as once played by the very great Art Pepper. Other names to conjure with are King Zephyr, Vito, York and Holton.
At the another part of the vintage Saxophone market Selmer Bundys and King Clevelands are American saxs with a good professional sound out of a student sax .The early models are lovely and can often be excellent value for money.
A vintage sax is a valuable instrument and is well worthy of renovation and restoration in the hands of an expert repairer – see Repairs section for detail.


---


Here's some Blowout sax student write ups on their Vintage saxs

After completing my 5 year probation on the clarinet my parents were true to their word and bought me a saxophone. It was great, because it was a saxophone. Progression was slow and difficult. I soon learnt that I needed lungs of an elephant and He-man strength in my fingers in order to gain any sound out of it!

18 months passed and I was on the edge of quitting. It didn't seem to make any difference how much practice I put in either, it still 'squeaked' and rattled like I was a day one novice.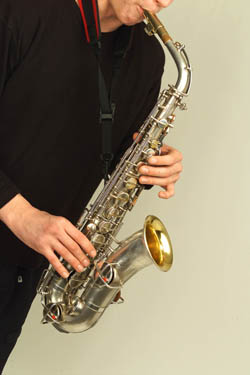 A random meet up of an old friend in the streets of Bath soon resulted in a visit to his house. He had just received a fresh consignment of musical instruments from the US. Sebastian knew me of old and he knew what I liked. On opening a very battered old case I saw the best looking saxophone I had ever seen. An under-slung silver Conn. It was great! Old, and in need of a few new pads but to my surprise blew effortlessly despite its few faults.

Compared to the B&M Champion the Conn was amazing. Comparison in cars is similar to climbing out of a 1996 Ford Escort into a 1964 Aston Martin DB5. Yes, older but far more refined. It has a fabulous tone and feather like key action. The warm mellow tone matches its slightly tarnished silver appearance, less brash (and brassy) than my old East German contemporary.

Ownership is very like owning a classic car, regular servicing and respectful treatment and it rewards. 10 years on, the Conn is still with me and I enjoy playing and never get bored of its lovely tone. Thankfully, I no longer have to contend with the unforgiving, raw and novice sounding tone of the B&M Champion. The Conn is here to stay.

My advice is to buy the best you can afford and always go for tone above 'looks'

James Stanton

---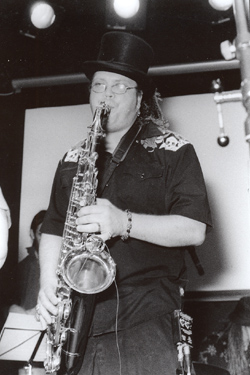 It all started a few years ago when I was given a relatively cheap Chinese Saxophone for Christmas. This horn was a beast but an ideal step to learn to play on. Low notes were almost impossible to get and the high notes sounded like I was torturing small cute fluffy animals, but still I learnt the fingerings and how to carry off a few tunes.

When it finally hit home that I loved the saxophone but not my saxophone I started looking around for an upgrade. I was afforded the luxury of being able to select between two in the same price range around £700 (which at the time was more than my car was worth). There was a nice shiny new one and a slightly beat up Selmer Bundy Tenor, needless to say they both played very well but I was feeling the love for the new and shiny but the rich tones that came from the Bundy sound best to me so that is the one that I inevitably went for. Since then it has become my most treasured possession (aside from my pets) and I wouldn't part with it for the world. I am never going to be a world class virtuoso so she (I have named my Sax but I never tell anyone what it is) fulfils all the requirements that I want, the tone is rich and vibrant and she plays like an angel (though probably not a high ranking one).

J-P Hartfield
"I am a deeply religious nonbeliever - this is a somewhat new kind of religion."
A Einstein
PS All the best you crazy crazy high octane dervish of a man you!

---
Vintage French saxs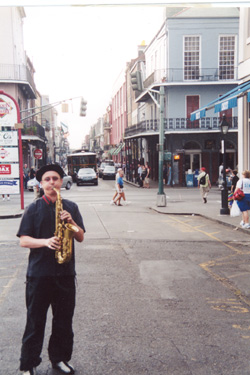 Some vintage saxs around are French and excellent they are too with lovely warm tones. I bought one in New Orleans called a Couesnon.

Another make I've come across is Noblet.

If however the sax is beyond repair and you fancy an objet d'art for your wall, check out these Painted Sax and maybe it could be designed to your taste.



<!- Mr Blowout Sax Blog Button ->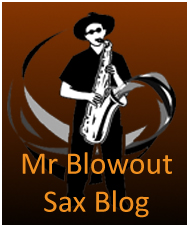 <!- Licensing Button ->