Smaller Group Workshops



We also have run smaller Workshops so students can play together.

Pavilion Workshop - to prepare students to open The Bath International Music Festival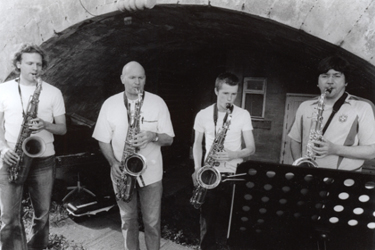 A cluster of Blowout saxophonists were whipped into shape with harmonies, arrangements, and solo skills to produce a massive saxophone sound with the aim that The Blowout Sax opened the Bath Festival at The Pavilion in spectacular style.



The tunes played were from Blowout Supergroovy 60's Soulsax Baby Yeah are ' Last Night,' 'Soulfinger' and of course 'One Step Beyond.'

Check out the performance of Soulfinger:




Soulfinger



Skills and Information based Workshop at the New Oriel Hall Larkhall Bath

Over the years we have also run other workshops. Here for example was a session we ran a little Blowout Sax workshop involving many saxophonists who weren't part of Blowout Sax but were interested to come along.


Workshop Timetable
10.30am-11am Arrival and Set Up.
11 -11.30 am
Warm up
Long notes
Left hand
Right hand
Tone matching
Mouthpiece
Structuring practise time - Stan Scott
11.30-1 pm. A specially created Blowout piece - African Groove
3 groups ...A B And C ...each teacher takes care of a group. Stan, Craig, Mark
1pm – 2pm Lunch - super special Sausages from The Sausage Shop.(includes veggies.)
2-2.45 pm Chat about Adolphe Sax and his greatest exponents...lessons to learn from the greats...Plus note form. Mark
2.45-4 pm 'George 1' with Craig.
'Perfect Day' with with Mark.
4 pm .Tea break
4pm -5.30 pm. Arrangement of the CAN-CAN - with written arrangements, including / stabs / tempo changes / speed / dynamics - loud and soft / and invite ideas from the floor


Big Finale :

With a big energy performance of all 4 pieces to finish.

Exclusive and limited to 40 players.

Swop saxs / FAQ'S


---


'The Living Bridge' Project

The best description of this is from journalist Tony Staveacre. In 2006 the city of Bristol celebrated the 200th birthday of Isambard Kingdom Brunel. Bristol's top saxman Andy Sheppard was commissioned to devise and direct a suitably magnificent musical tribute to IKB. He, with the help of many Blowout saxophonists recruited and directed a 200 west country sax players to form a saxophonic choir: and over a very short but very intense rehearsal period created a well organized and polished ensemble.

The big noise for the big night: Andy's piece was an original composition for massed saxes and combined grand fanfares, electronic soundscapes and reggae riffs, Mexican waves and layered chords over which the leader improvised his own virtuoso solo over 'Happy Birthday' while rockets exploded in the night sky and a fiery waterfall cascaded into the Avon Gorge.

Andy was hugely aided by Craig Crofton of Blowout Sax who played a major part in the actual performance playing and conducting as well as alongside Andy in the many workshops .

Thanks to Tony Staveacre and BBC..



Brunel200 Living Bridge Concert

Mark on Andy Sheppard's Brunel200 piece post first workshop

Brunel200 Andy Sheppard at the Bath Workshop
<!- Mr Blowout Sax Blog Button ->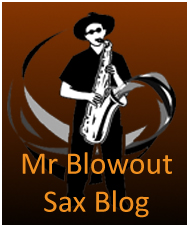 <!- Licensing Button ->