Hand Painted Saxs by Cate Archer
Wild Cat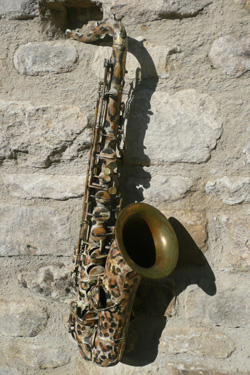 Wild Cat is a female horn, feline and its fur-like in its influence. Handpainted baritone sax. This is a very tranquil piece.

It's pattern is etched and scratched which allows some of the original metal from the tenor saxophone to glisten through

Music Man's Dreams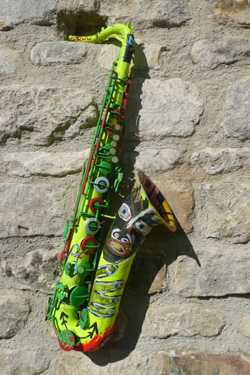 This graffiti style handpainted saxophone has been influenced by the work of the artist Jean Marie Basquiat and the words and work of Alan Davie (who as well as being a top painter is also a sax player.)

This alto saxophone has a wall mount so you can hang it on the wall as you would a painting placing this vibrant fine art piece in your home,or office or restaurant.

Stars And Stripes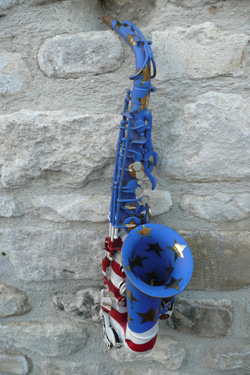 This was partly influenced by a Jasper Johns Three Flags 1958 and the presence of our very own Craig Crofton at Blowout Sax.And I just love the stars and stripes.

Made In Britain
A VERY BRITISH SAX

Work in progress. I wanted to balance the axis between the stars and stripes and paint a very British sax with recognisable images associated with our country.I admire the work of Grayson Perry after seeing an exhibition of his work at the Victoria Art Gallery Bath.I would say he's had an influence on this piece.

Sax and Bath
Work in progress This is to celebrate Blowout Sax in our beautiful world heritage city. The school is placed overlooked by the Bath Abbey and the Pulteney Bridge over the river Avon. I have painted the views on canvas and thought how great it would be to paint them on a saxophone.

I couldn't resist using these otherwise unusable saxophones as a canvas for new inspiration and ideas.They can be mounted on the wall as you would a canvas and placed wherever you wish.They look amazing in the home as an accessory to your interior designs and a wonderful talking point. Some of the saxophones can have subtle lighting with the sax so that it projects soft light and colour through the various openings onto the surrounding wall.

These fine art saxophone pieces can be used for hotel and restaurant interiors and displays. The painted saxophone spark a comment or a desire to own one from teenagers who think they are cool and how they would look in their bedroom in particular the graffiti style Music Man's Dreams sax with those vibrant colours.Also what an unusual gift for someone who loves the saxophone be it for the music or the sax itself.It is an unique way of expressing yourself with a piece of art you love.

Contact us if you like bespoke hand painted design of your sax or of one we can source for you.