Blow Your Own Sax Articles



From the article in the Bath Chronicle 'Teaching the Joys of Sax.' 'You are never too old to learn the sax. The Blowout Sax revolutionary way teaching book gets you learning quickly without having to read a musical note. So if you love the sax or interested in any way You can play.'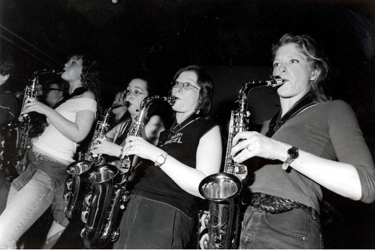 'You start when you are ready and then the Blowout Sax teacher and books can take you as far as you wish to go!' 'The Blowout Sax way is about enjoying the sax while you learn.'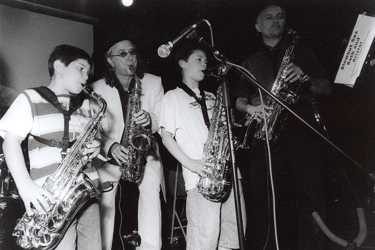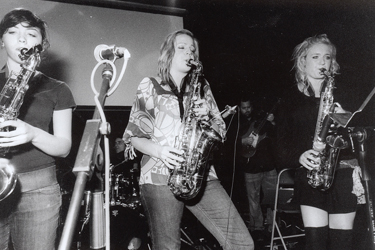 And highlights from article from Venue 'Blow Your Own.' 'anyone who wants to come along, from 8-88..you don't need a sax, you can just have a go and see if it's for you. We rent them and sell them. depending on where you want to go with it, but at least you know it's for you.'
The philosophy behind the Blowout Sax School is that students learn faster if they have a passion for the instrument and more importantly 'have a really good laugh learning it. The idea is to get as many people as possible playing the sax. Second, we make sure it's maximum laughs. Music's about enjoying it, not being stuck there doing something rigid.'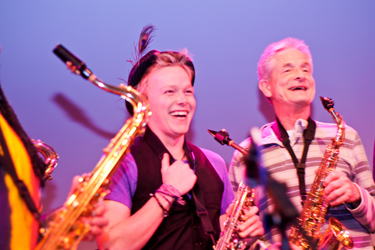 'Students play completely by ear, so straight away we cut out all that rigid stuff that puts people off. We start you getting your notes to sound beautiful and then get you learning tunes immediately so you can be showing off to your friends in a couple of lessons playing 'Ain't No Sunshine,' Baker Street and Pink Panther. The whole approach is about discovering the music that lies within you and we take you on your own musical journey. To be true to you.' 'it's about developing skills you never thought you had.'
The performance aspect of Blowout Sax is a highlight..where over 70 students can show off their new-found skills, backed by the Blowout sax teachers and the very best in top session musicians that have included legendary the Mercury award winners 'Get The Blessing ' drummer Clive Deamer and Jim Barr both of Portishead, and on trumpet Pete Judge. www.theblessing.co.uk.

'Students will be playing the widest variety of styles pop jazz blues and soul ..classic party tunes..We give students the incredible experience of playing live: it gives learning a focus, a goal. All the Blowout Sax gigs are massive sellouts having developed from about 20 students getting up to over 65 plus..and over the years we have had some incredible finales..the most memorable being 25 saxs playing 'Can-Can' Bad Manners styley ~It blew the roof.It will be carnage. It will be hilarious. Most of all it will be fun, man, that's always the thing.'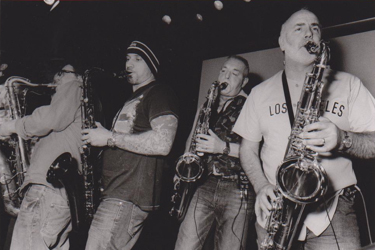 ---


Whatever your musical saxophone style we have covered it and will take you some new areas. Cast your eye over this list of players.

For full Synposis explanations check out Specialize.

1.Blowout Sax: The Revolutionary Approach for sale cover
By Mark Archer
Consultant Craig Crofton

Blowout Sax: The Revolutionary Approach represents a radical new method of learning to play the saxophone. No musical knowledge is required. The saxophone's answer to Guitar's tab. It's the quick, proven, fun route to becoming a saxophonist.



Blowout Sax Channel

From The Blowout Sax A Revolutionary Approach To Learning The Sax you can see the younger members of Blowout play a stonking rendition of 'When The Saints.'

-----------------------------------------------------

All the tunes in these books have been transcribed in the text in Blowout tab. Potential publishers note: they have been easily be transcribed into full notation for the world market.

2.Blowout Sax Madmen
for sale cover
By Mark Archer and Tony Clark

Blowout Sax Madmen is an new departure from the conventional approach of existing biographies and histories. The co-authors have undertaken a well researched distillation from many numerous sources and then presented it in a visually entertaining book.

Starting with Adolphe Sax and his own misadventures, they have selected fourteen of the most interesting and often flamboyant characters, who helped the development of the art of the saxophone. Although not mad in the medical sense, the sacrifices they made for their music and the crazy, self-destructive lifestyles undertaken were evidence of a 'beautiful madness' of sorts. To provide a fresh vision, artists were commissioned to portray each Sax Madman in his own right, to avoid the cliched image continually associated with the saxophone. The result is an accessible, informative desirable package that introduces the saxophone to anyone who wants to know more.

3.Blowout Saxology for sale cover
By Mark Archer and Stan Scott

Blowout Saxology contains profiles of twenty major saxophone players in the areas of jazz, funk, soul and pop. The biography, recordings, and musical approaches of each player are detailed in lively and informative prose.

Blowout Saxology aims to provide a useful and enjoyable resource for saxophone players at all levels while at the same time offering a lively read for the general reader. With numerous transcriptions of key solos (in Blowout Sax tab and in full notation), guides to performance, and audio resources to reinforce the experience of these great players.

Blowout Saxology provides a unique introduction to the amazing world of the saxophone. The book is both informative, entertaining and attractive to a target audience of musicians, newcomers, and enthusiasts alike.

All in all, it is a master-class with musical legends.

4. Blowout Late Night and Spiritual Sax.
By Mark Archer
The aim of Blowout Late Night and Spiritual Sax book is to inspire saxophone students of all abilities to learn from some of the finest tones ever produced on the saxophone. Each of the twenty tunes selected are beautifully written and wonderful to listen play and enjoy. The idea of absorbing the tones from the likes of Jan Garbarek, John Coltrane and Andy Sheppard is to develop your very own personal tone.



Blowout Sax Channel

Is the sublime soulful hymn by Cannonball Adderley 'Mercy Mercy Mercy' from Blowout Late And Spiritual Sax played by our Blowout Sax students.

5. Blowout The Best Pop Sax Of All Time
- A Collection Of Spine-Tingling Sax Tunes,Hooks,Breaks And Minatures.
By Mark Archer

Blowout The Best Sax Pop Of All Time contains the most requested pop tunes for saxophone. All the tunes in the book are milestones in the history of the sax.
Blowout The Best Sax Pop Of All Time has also been presented in sections to give as much insight as possible into the different ways the sax can be inspire and create such memorable pop music. The sections are: The top five most requested pop solos, great British hooks and miniatures, and Classic American pop breaks and solos. Examples of these are the top five most requested pop solos (see You Tube) great British hooks 'Careless Whsper' and miniatures 'True' Spandau Ballet and Classic American pop breaks and solos Born To Run/Springsteen Just The way You Are Billy Joel.



Blowout Sax Channel

Wonderful performances takes of 'Will You,' 'Baker Street,'' Will You,' 'Lily was here,' and 'The Pink Panther.'

6.Blowout Solo Sax.
By Mark Archer
The aim of Blowout Solo Sax is to demonstrate how incredibly powerful and emotive the saxophone is as a solo instrument. There is the usual eclectic mix of musical styles is presented here. By way of example check out

You Tube –On The Blowout Sax Channel

Watch spellbinding performances by students of 'Blue Sax' and 'Polperro.'

7.Blowout Honkers Swingers And Screaming Sax
By Mark Archer
One of the most enduring and joyous styles of saxophone ,with over 50 tunes transcribed ,examples include the infamous Pulp Fiction dance along to The Revels tear up saxo, world famous Yakety Sax and Tequlia Peter Gunn et al . And although they sound easy to play these honking, screaming, swinging tunes make you work technically very hard! The other strong attribute is that they adhere to the KISS of long-lasting music. Keeping it Simple, with memorable themes .No mean feat I can assure you.



Blowout Sax Channel

Watch one of these uplifting tunes is entitled 'Green Jeans' one of many from The Blowout Honkers Swingers And Screaming Sax.

8.Blowout Supergroovy 60'S Soulsax Baby Yeah!
By Mark Archer
Blowout Supergroovy 60'S Soulsax Baby Yeah was inspired by all those tunes that came from those great movies that I saw before I ever put a sax in my hand. Those that spring to mind are Peter Sellers' The Party, or 'To Sir With Love,' or 'Breakfast At Tiffany's' where people were just being 'groovy.' Featuring tracks by 'Poppa' Willie Mitchell, 'The Bar-kays,' King Curtis, The Mar-Keys and Booker T and the MGs. A collection of over 20 supergroovy cherry-picked tunes from their collection of soulsax instrumentals .



Blowout Sax Channel

The Blowout Sax School also opened the Bath Festival Live at The Pavilion and taken from Blowout Supergroovy 60's Soulsax Baby Yeah are 'Last Nigh' and 'Soulfinger.'

9. Blowout The King Of SoulSax
By Mark Archer
The legend that is 'King Curtis could play anything.' This book proves it.
Blues,Jazz,Soul,Rock,Pop,Gospel,R&B and Changes. 'The King Soulsax hero who could do it all. Play with soul, melody, fire , and passion. May The King's legacy has been compiled with over 40 tracks so his amazing playing style can live forever.
You Tube- Blowout Sax Channel Inspired from the book written On King Curtis entitled King Of SoulSax watch students performing a spine-tingling take of 'A Whiter Shade of Pale.'

10.a.b. Blowout Blue Sax.
By Mark Archer
The aim of Blowout Blue Sax Part 1 and Part 2 is to show clearly the importance of the blues and to demonstrate the role the magical blues scale plays in the creation of so so many of the great saxophone styles.

The blues scale is a safe departure when learning how to jam and the idea of this book is to access some great licks and ideas from the masters.
' Everybody starts by imitating their heroes. For me it was Chuck Berry and Muddy Waters', says Keith Richards.

By firmly placing the blues scales 'under your fingers,' you will be following the lead of the great blues masters. After that your task is to take that knowledge and use it to create your very own music. There is a diverse mixture of musical styles here which features some of the immense power created out of the blues. Power that comes out of simplicity.
As the great blues guitarist Albert Collins said: 'Simple music is the hardest music to play and blues is simple music.'
The aim of Blowout Blue Sax Part 1 is to cover the blues in the three easier keys of A D and E alto and A D and G tenor. In each blues section we provide some inspirational and diverse examples of how the blues scale is used in music and after some jamtracks so you too can start to experiment with the aim of creating your own melodies and hooks.
The goal of this book is to have you master A, D, and E blues thoroughly and have ideas galore with what to do with them. Blowout Blue Sax Part 2 follows a similar layout as you learn the other 9 blues keys.



Blowout Sax Channel

From the book Blowout Blue Sax you can see Blowout student performances include the legendary 'Green Onions' and from The Blues Bros 'Sweet Home Chicago' and even BB King's 'Thrill Is Gone' gets a saxophone twist to it.
10. Blowout Kings Of The Jamaican Sax
By Mark Archer
The aim of Blowout Kings of Jamaican Sax is to introduce the world of the Jamaican Kings of the saxophone to any saxophone player who wants to play the very best in inspirational ska and reggae tunes. Having trawled through countless recordings from each great saxophonist such as Tommy McCook, Roland Alphonso, Cedric 'IM' Brooks or Dean Fraser. I have personally handpicked these joyful, uplifting, and melodically infectious tunes, over 50 of them, and transcribed them by ear, and then lovingly notated them in our Blowout Sax tab style so that you can play and learn from these masters. It has its roots in masterful saxophone playing and is, above all, accessible to everyone. Each tune is a magical pearl and the idea is to work to play those tunes that light your fire and maybe write your own one day. It has its roots in masterful saxophone playing and is, above all, accessible to everyone.



Blowout Sax Channel

From Blowout The Kings Of Jamaican Sax are a few examples of The Skatalites with a sample of the 'James Bond' and 'Independent Anniversairy Ska (I Should Have known Better)' and students playing two Tommy McCook classics 'Riding West' and 'Tommy Rocksteady.'

11. Blowout Saxperimentalists
By Mark Archer
The wild and wacky side of the saxophone these tunes are in their very own way thrilling wonderful and exhilarating to play.We feature four immortal saxophone talents here….Eddie Harris and Roland Kirk the original 'experimentalists,' and Jim Lurie from the 1980's and from the current crop of British saxophone wild axeman Pete Wareham. The hope is that this unlocks the Saxperimental side of your playing!



Blowout Sax Channel

Check out Acoustic Ladyland watch 'Red Sky,' and to show you a display of one of our crazy gig finales from the book Blowout Saxperimentalists the students play 'Deckchair.'

12. Blowout Smooth Sax Operators
By Mark Archer

Blowout Smooth Sax Operators is where the big saxophone dollar lives. Within this book are is some King Curtis who could adapt his style to anything one of his UK saxophone disciples 'Snake' Davis. Also included is some gritty yet smooth delivery of Argentinian Gato Barbeiri with his Latino inflections,more 70's and 80's sounds of Tom Scott, Sypro Gyra, John Handy and Ray Gaskins. As we head towards the finale here comes Grover Washington Jnr - Hank Crawford inspired a posse of followers with Dave Sanborn leading the pack and can hear his influence in turn in the ultimate female sax siren Candy Dulfer's playing.
So this helps You the student to decide where to draw the line of what qualifies and what you can hear and accept or not as the case may be.
These tunes have been taught at Blowout Sax for many years and a lot of these have been wildly popular with students.

You Tube -The Blowout Sax Channel

–watch Candy Dulfer's 'Lily Was Here'


13. Blowout Sax Tenor Titans.
By Mark Archer
Blowout Sax Tenor Titans is a collection of some of the beautiful tunes ever written interpreted by a quartet of the greatest exponents of the tenor sax. From the start of our tenor sax journey with Ben Webster displaying his highly original blowing style of phrasing and vibrato and heavy heavy tone. Then comes Dexter Gordon and his majestic tone interpreting some timeless ballads amongst them Frank Sinatra's 'I Am A Fool To Want You.' These are the finest jazz balladeering moments.
With the legendary John Coltrane we play some of his own compositions like Naima, After The Rain and Aisha as well as his virtuosity in playing the classic jazz ballads as we compare his versions of two of them with 'Sonny Rollins' 'One And Only Love' and 'In Sentimental Mood'. Sonny's equally amazing technique is also explored in the final two songs the jazz classics 'God Bless The Child' and 'Around Midnight.'
This whole tome can be summed up by another incredible jazz mad saxman Art Pepper :~
'I enjoy playing ballads more than anything else. You can pour your soul into them, you can say everything.'
The aim of this book is to learn and then take the skills of learning a tune by heart including the lyrics and make it your own.

14. Blowout The Pure The Beautiful And The Poet Of Sax Sounds.
By Mark Archer
This is one of my favourite saxophone projects as like all saxophonists I am in love with the sound The Tone. These masters Desmond, Getz and Garbarek are the greatest at this exponent having refined and created a sound that defined them forever as supreme saxophonists.
They all play strong melodies but delivered with a delicate, soft, sensitive touch using bold themes coupled with many subtle barely audible touches. This books also covers the three main instruments Desmond on his Alto, Getz on the tenor and Garbarek primarily on his curved soprano.
As always I have screened and listened to as many of each player as possible before selecting what I consider to be the strongest and most memorable to work out and teach to play. By both listening and playing along to Desmond, Getz and Garbarek will improve your technique, give fresh and inventive ideas and markedly improve any saxophonist tone.



Blowout Sax Channel
Take 5


15. Blowout The SoulSax Brothers.
By Mark Archer
The Soulsax Brothers is a compilation of some of the greatest soul saxophone playing ever heard and recorded. All of three of these saxophonists had the ability to work with the ever-exacting Ray Charles. First set of tunes to absorb are by Stanley Turrentine who possessed the power to capitivate on songs like 'I Told Jesus,' and 'Willow Weep For Me.'
The second top saxman is Hank Crawford. Another incredible musical talent with unusual musical arrangements like on 'Lorelei's Lament' and 'Angel Eyes.'
The third and final Soulsax brother is Dave 'Fathead' Newman who's Be-Bop phrasing is sparking especially on 'Lonely Avenue' and 'For Buster.'



Blowout Sax Channel

From Blowout Brother SoulSax comes the Stanley Turrentine flavoured take of 'Walk On By.'


16.Blowout The Pink Panther Sax Sound.
By Mark Archer
The immortal Pink Panther Theme must and still does account for so so so many people's initial desire to want to play the saxophone. It may have been Henry Mancini's piece but John 'Plas' Johnson's tenor sax delivery of those crisp phrasing and that solo…Ooh that definitive slinky sleezy sax sound. So playing a tenor sax bending and shaping sounds becomes rooted in your young mind.
I have since been been on a voyage of 'Plas' Johnson discovery where I found over twenty 20 tunes I liked and chose to put in this book from around the date of The Pink Panther recordings as in subsequently years as he adapted his style removing his wild scoops bends and wah-wahs.
I adore his tone and his style so really enjoy absorbing the lessons of the quintessential tenor saxophone sounds of Mr Plas Johnson.

17. Blowout Sax Epics.
By Mark Archer
Despite not being a huge fan of long long saxophone tunes that go on and on to nowhere for the listener, however on my journey on my beloved sax there have been seminal tunes that have made me want to play the sax forever… my favourite being Children's World' by Maceo Parker ,closely followed by 'Ain't No Sunshine/Lonely Avenue' performed by Isaac Hayes with Emerson Able's alto sax in front of 112,000 people and are two such tunes. Each is a musical trip that weaves and goes through musical highs and quiet stages where there is solo sax, loads of sax, themes,breathtaking solos,stabs and hooks .Those two tunes are absolutely breathtaking to listen to and to play….There are others Brother Wind March is Jan Garbarek at his very best. A solo beginning of human outcry, a majestic theme an explosion of soprano in Arabic form, a breathtaking piano solo and then to complete the trip a return to the majestic theme.I got no eye for back played by Houston Person is a fantastic funk based driven groove, with enormous themes and a couple of great soulsax solos. 'Don't Explain' and 'Winelight' remind me of my earlier saxophone playing days with 'Don't Explain' being from a second hand vinyl copy and until last I hadn't heard it for over 2 decades and still conveys the essence of Billie Holidays' jazz classic.
This is a different type of sax tune but all have the very finest qualities.



Blowout Sax Channel
From the book Blowout Sax Epics includes a take of Maceo Parker's wonderous 'Children's World' and here two stellar students take it on.


18. Blowout The Grandpappys Of Boogaloo And Soul Makossa Sax
There have been two Blowout Bath trips in the past couple of years where we have arranged and taken over 40 of my favourite saxophonists to London's Camden Town's Jazz Café London to see these two Grandpappas of the saxophone.
Having seen them before and be inspired by their music to see and hear them in the flesh tingled my soul. Pure charisma radiated through their saxs their being and their soul and in the Grandpappa stage they were still adored by a capacity crowd. The key to them both is simplicity of phrasing, very catchy hooks and when soloing a logical to the tale told. They also restrain their technical ability on their voice of the saxophone works with their style of music .
The goal of every saxophonist is to create a very distinctive sound and also take the sax where it hasn't been before. In this highest regard Lou Donaldson and Manu Dibango have achieved this brilliantly.
This book as it not only raises your technique, but teaches you the art of keep it simple.

19. Blowout Fat Funk Sax Blowout Fat Funksax is learning the art of making the sax sound funky and within this supreme tome you will comfortably attain that art form.
In this book we feature many of fatfunk sax classics and some great jamtracks to work out your own funk tunes on. Featuring as a lynchpin the maestro of funk Maceo Parker in a light funk groove, 'Blues For Shorty Bill,' full-on funk in Jack's Back and playing live on Planet Groove on '.Shake Everything You Got 'Live.' 'Pick Up The Pieces' by Average White band and Soul Power 1974' are amongst the rest of the tracks including the electric David 'Fathead' Newman tunes 'Missy' and Captain Buckles.' Fat Funk Sax is a vibrant, exciting and rhythmic saxophone style to play.



Blowout Sax Channel
Compiled in a hi-energy funkfest Blowout Fat Funk you can see powerful performances of JB'S 'Cold Sweat' and 'Soul Power' and the ever popular 'Pick Up The Pieces.'

20.Blowout Two Tone Sax.
By Mark Archer
Being a 'rocker' at secondary school forced me to become a closet lover of two-tone ska in the late 70s early 80s. Bands like Madness, The Specials and The Beat all featured saxmen playing leading roles in making the music 'happen.' The roots of this big two-tone sax sound were distinctly Jamaican. Although I didn't know it at the time, my favourite home-grown ska bands were indebted to some little know reed masters from the Caribbean – the great Sax Kings of Jamaica who are the subject of the preceding book to this.

I have trawled through countless recordings from each great British act who followed these acclaimed innovators from 1978-1981 and have personally chosen the very best tunes, transcribed them by ear, and then lovingly notated them in our Blowoutsax tab style so that you can play and learn from these masters.



Blowout Sax Channel

The Blowout Two Tone Sax are the evergreen 'One Step Beyond,' Night Boat To Cairo,' and 'Food For Thought.'

21.Blowout Motown SoulSax
By Mark Archer

I am a roadrunner. Ever since Berry Gordy told me to scare up a truck and git…I got the truck and I lit. I travel. I blow some. People dance. And I like it.

I didn't worry much when it came to time to go. Motown helped me gold-plate my horn. But Motown never did teach me how to blow it.

Junior Walker.

Junior Walker's soul music was huge influence on my own decision to pick up and play the sax. I just couldn't resist the pull of an old, scratched, secondhand vinyl LP which introduced me to the roughhouse bluesy energy of Junior Walker's sax playing and his soulful voice. The image was great too! The inspirational cover of the LP showed a sweating all-action saxman with his beloved Selmer tenor sax glinting under the spotlights. Who could resist such an invitation?

So 27 years after finally got the sax out and took on working out the cascade of the greatest of Junior Walker tracks. 'Shotgun.' this compulsive hit had 'the kick of a mule and the greasy feel of a pigs feet dinner!' Raw and uninhibited, the track features helter-skelter horns, sledgehammer rhythms and dramatic interplay between Hammond organ and vocal chant. There are many more greats -- 'Roadrunner,' 'Cleo's Mood, 'Cleo's Back,' and 'These Eyes,' -- to name just a few. Junior Walker just made so so much 'good time music,'and there it all is in Blowout Motown SoulSax.

22.Blowout The Sopranos
By Mark Archer
After 20 years of teaching came the halcyon moment years of listening to great soprano saxophonists and learning and teaching really came together and there finally found a future for me and the soprano.
The history of the Soprano sax is well worthy of its own book as it is such as different and capitivating sound of a different type of sax. By studying the specialists like John Coltrane, who in turn heavily influenced Branford Marsalis, Jan Garbarek and Andy Sheppard this helps produce the sensational tones from this unique saxophone sound.
Many of the others discovered are spine-tingling and within this supreme tome this will help you will develop and attain that art form and develop your own soprano style.

23. Blowout Wild Cool Swingin' Big Horn Sax.
By Mark Archer
Sam Butera was an ace sax player, Butera is frequently regarded as a crossover artist who performed with equal ease in both R & B and the post-big band style of pop jazz that permeated the early Vegas nightclub scene.
Forever associated with Louis Prima (the voice of King Louie) this book came out from one of my Italian students who asked if there was any Italian saxophone based tunes. I then recalled a CD of Sam bought in New Orleans which had 'O Sole Mio' ..('Love of my life') on from that spun a thrilling tango on Just Say I love Her (Dictencello Vuie) and on the research went with a swinging wild and cool style with a flavour of N'orlins on a tune 'Street Scene' married to a big taste of Vegas showmanship sax on 'Blues In The Night'.



Blowout Sax Channel
'Wailin' Walk' from Blowout Wild Cool Swingin' Big Horn Sax.




<!- Mr Blowout Sax Blog Button ->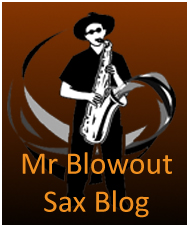 <!- Licensing Button ->