Golden Rules - Buying a Second Hand Sax



Playing a quality sax is 80 percent of your future success..The best saxophones are made in France, the USA, Japan and Germany. Buying a Saxophone is an intensely personal decision.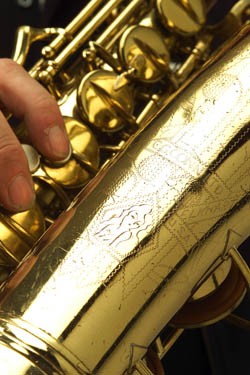 Now let's make this clear...

All Saxophones are beautiful.
And beauty is in the eye of the beholder.
Shiny lacquered, wickedly knackered,
silver plated, or just a sexy black: There will be one that takes your fancy and if your pockets have that depth then choose your future friend and lover, and play that dream 'til your journey ends thinking...
"How lucky am I?!"

Mark Archer 1994.


The 13 Gold rules to check when buying a second hand Sax.
(With Thanks to Andy Brellisford.)
When you look at a sax ~ make sure it's got a crook!! Believe you me It has happened!! Ask Craig!! To check the weight, take a good sturdy Neotech sling ..make sure it isn't too heavy. Vintage saxos can be wonderfully weighty and will in time give you neck and right thumb ache.
Look at the pillars…are the keys attached to the body…and have any keys been re-soldered.
Look at the levers too..
Look at the key work, and the finger spaces especially the stretch towards bottom Bb..the petal key arrangements of bottom B, Bottom C# and Bottom Bb are always different. All keys work in groups of 3 or 4..Press them all they should move.
Check action by using the full percussive exercise up and down the scale…
Look down the main body against the light..look at the tone holes and check for little and big dents.
This can be the decider..re-pads can be very expensive.. so check the pads are clay coloured with the metal ring in the middle..no metal ring on very old sax pads would require a major re-pad.
When you test it put a decent mouthpiece and a blown in reed on it.
Check springs, screws and the guards are firmly on.
Check the octave key mechanism and thumb rest.
Don't worry too much about lacquer..there is a theory that the less the lacquer the darker the sound.
Blow it with a good mouthpiece and a beginners Yamaha mouthpiece.


And then take it to an ace saxophone technician and get it properly serviced and set up so it sings easily.