My Saxophonic Journey - Suzanne Holmes a.k.a. Suzie-Suz



Mark has asked me to write a bit about myself and my saxophonic journey with Blowout Sax. So here goes!

My renaissance was on 23rd June 1998 with my first lesson. The drug that is "the joy of sax" was quick to take hold and now I am addicted and I'm not ashamed to say so. I started off with an alto as many of us do, and now also have a tenor because some music just sounds better with a deeper horn. If someone said I had to give up one of my saxes I would not be able to choose. The alto is my first love (saxophonically speaking) but the tenor has those deep notes that make you go weak at the knees.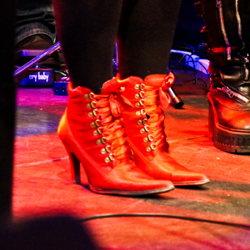 I have played at lots of Blowout gigs over the years, the most fun I think is probably when I have been playing an Acoustic Ladyland's Red Sky, but my proudest gig moment was when I played Tommy Smith's version of "My One and Only Love" with only a few hours notice. This tune was not only solo but also unaccompanied.
When Blowout Sax did the Guinness World Record for the most saxophones playing together I taught my son enough sax so that he could join in too. I even roped my daughters and husband in to hold up the music boards.

I have also played at non-Blowout events – Will Gregory's 'Ghost Ship' (Bath Music Festival), Andy Sheppard's 'Brunel Bridge' event in Bristol and with some Blowout friends in a local church for World Aids Day. The very best personal performance was when I played in church for my nephew's wedding.

As to my favourite tunes, well, how do I possibly choose out of the hundreds I have played! Definitely up at the top would have to be 'Aubrey' – Grover Washington Jnr. , and 'Serenity' – Clarence Clemons. Next I think would be 'My One and Only Love' – Tommy Smith and 'Over The Rainbow' – Ben Webster. Then of course it would be 'Black and Crazy Blues' Roland Kirk, this is the tune I want to be played at my funeral because it is both sad and quirky. But when writing a list of saxophone tunes how can I miss out the King Curtis and Lou Donaldson ones I've had fun with? And what about Jan Garbarek and Plas Johnson? The list could go on forever! A really good tune to warm up your fingers is 'Hoots Mon (There's a Moose Loose)'. It changes key part way through so you need to concentrate, but it's fun.

That's what playing the sax should always be – fun. Perhaps fun is not the right word as sad songs can be just the right thing depending on your mood. So playing the sax should be what? Fun? Satisfying? I know – playing the sax should be an extention of your life, the glue that binds everything together in your head and helps you make sense of the world. Music is like love – it asks for nothing in return.