Live Blowout Gigs



Some of the greatest moments from The Blowout Sax gigs from the past 5 years are on Youtube Blowout Sax channel. These Blowout gigs tend to displays the more flamboyant side of the sax.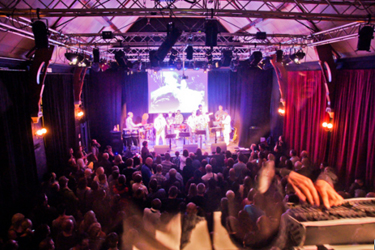 Many of the tunes selected are from Mark's books. From Blowout The Greatest Pop Sax Of All Time are wonderful performances of

'Will You' ,

'Baker Street' ,

'Lily was here',

'The Pink Panther' , and from The Blowout Two Tone Sax are the evergreen

'One Step Beyond'

'Night Boat to Cairo' and

'Food for Thought'.



From The Blowout Sax A Revolutionary Approach To Learning The Sax you can see the younger members of Blowout play a stonking rendition of

'When The Saints'.

From Blowout The Kings Of Jamaican Sax and Blowout Two-Tone Sax are a few examples of The Skatalites with a sample of the

'James Bond' ,

'Confucious' and

'Independent Anniversairy Ska (I Should Have known Better)' and students playing two Tommy McCook classics

'Riding West' and

'Tommy Rocksteady'.

Other impressive student renditions include the legendary

'Green Onions' and from The Blues Bros

'Sweet Home Chicago' and even BB King's

'Thrill is Gone' gets a saxophone twist to it. Included in the book Blowout Blue Sax these are a merely a taste of some of the inspirational tunes we teach at Blowout Sax.

Compiled in a hi-energy funkfest Blowout Fat Funk you can see powerful performances of JB'S 'Cold Sweat' and

'Soul Power' and the ever popular

'Pick Up The Pieces' by the Average White Band.

Inspired from the book written by Archer on King Curtis entitled King Of SoulSax is the spine-tingling take of

'Whiter Shade Of Pale' .

The book Blowout Sax Epics includes a take of Maceo Parker's wonderous

'Children's World' and here two stellar students take it on.

From Blowout Brother SoulSax comes the Stanley Turrentine flavoured take of

'Walk on By'

Blowout Sax also opened the Bath Festival Live at The Pavilion and taken from Blowout Supergroovy 60's Soulsax Baby Yeah are

'Last Night', ,' 'Soulfinger' and

'Ram Bunk Shun'.

Other wonderful tunes represented on You tube the sublime


'Mercy Mercy Mercy' from the very beautiful book Blowout Late And Spiritual Sax to the ridiculous of a tune entitled

'Green Jeans' one of many from The Blowout Honkers Swingers And Screaming Sax. On a similar path is Sam Butera's

'Wailin Walk' from Blowout Wild Cool Swingin' Big Horn Sax.

The jazz influence of Blowout Sax is displayed with excellent takes of 'Blue Bossa,' 'Caravan' and

'Take The A Train' .
To show you a display of one of our crazy finales from the book Blowout Saxperimentalists the students play

'Deckchair'.



<!- Mr Blowout Sax Blog Button ->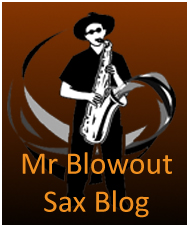 <!- Licensing Button ->