Lesson Arrangements



We teach morning from 9am afternoons and evenings up to the last at 9.15pm, 6 days a week so the lessons are flexible to fit with a working and home life. Each session lasts 45 minutes because that's as long as you have puff for.

Vouchers can also be purchased if you know of someone special that you would like to buy them for. We also offer 'buddy' lessons if you feel if you would like to start with a friend, your mum or dad or brother or sister and we also 'buddy' up students of similar standard in preparation for Blowout Sax gigs - See our

The Blowout Sax Channel .


We are currently filming lessons online which can be run alongside The Blowout Sax:The Revolutionary Approach book.

The Blowout Sax School operates a strict policy of a full 48 hours notice of any cancellation for whatever reason otherwise full payment is required. We have a limit to the time slots available and often without enough notice we cannot fill them.
Thank you for understanding.

To book in to join Blowout Sax please phone 0777 37 37 880, and let us know whether you are a beginner, or have been playing and need a fresh kickstart or fine-tuning your advanced skills in a new specialist direction - See the Specialist section. We will then place you with the specialist who we feel best fits your needs. We will find a suitable time slot for you with the flexibility that we teach throughout the day too, so you may wish to come along at lunchtimes, between shifts or any time mornings and afternoons or evenings. Most students come either fortnightly or weekly. If you just need the occasional charge we can 'float' in lessons too.

Online Teaching - Coming Soon



Learn how to Growl

'How To Growl - The Blowout Sax Way'
<!- Mr Blowout Sax Blog Button ->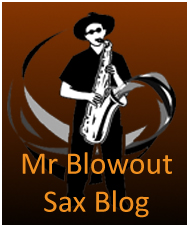 <!- Licensing Button ->