Mark's Testimonials



So you love the Saxophone? Well, never mind Eighties music, what about the Sax grinding away behind Duane Eddy in the Fifties -- and what an instrument: rhythm or lead, it does it all and, what is more, it does it all with accessibility.

So, if you have the good fortune to live within reach of Bath and you are an aspiring rhythm king, then you are in luck.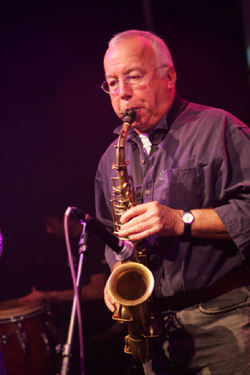 There is a magician working by the name of Mark Archer, and his Blow Out School of Sax, and after just an hour he will send you away able to play your first tune!
Mine was "Summertime" and, do you know what, it might just be the best of all time!

JOHN DOTTRIGE. Retired Investor.

---

Zach, my oldest, started playing at Blowout Sax with Mark about 5 years ago. At one of the more recent gigs he played the theme from Local Hero, one of my favourite tunes. At this particular gig a lovely lady got up on her own and played the most moving of tunes 'Blue Sax'. She was so inspiring after that I just wanted to learn, I talked to Mark and asked Zach if he minded me using his sax and then in secret from the rest of his family started to learn to play with Mark. After about 8 months I got up on stage and played at the next Blowout Sax gig to the complete astonishment of the rest of my family.
Since coming out I have gone from strength to strength, it is a lot easier to practice when everyone knows you play!
Every lesson at Blowout is like having a coffee with your best friend. Great fun, entertaining and you always learn something new!

LINDA CRAFT Mum of three boys

---

This sax is like an old friend. Sometimes you have those friends where it will never matter how long it has been, it is just as easy as it has always been to get along. Picking it up just feels natural. The keys seem to just be extensions of my fingers. The sound is soft and warm, and a new reed will have it positively purring. I'm not the greatest sax player, but this sax has always made it a joy to play.

Mark's teaching at Blowout was key to my early training in simply - LISTENING. Being able to interpret chord progressions, figure out scales, and work out complicated melodies by ear has been a blessing. It has made me much more aware of how one can hear, but listening is a step further from just hearing something. You fully begin to digest the sound, the tonal qualities, the phrasing, it becomes so much more exciting!

I have met so many players who can be given the lines and the dots and can quote the music back to me flawlessly. Sure, the notes are all there, but where are they? I don't hear them, I hear an audio photocopy of some lines and dots.

Mark and the Blowout Sax School taught me how to find my musical voice and throw it out at the world.

Patrick Morrison

---

BLOWOUT SAX has changed my life!.....No Joke. I had wanted to play the sax for over 20 years and after one taster session with Mark I went home blowing my first tune and I was hooked. I had no previous musical training and (still) can't read music but within a year I fulfilled a lifetime ambition of playing live at one of the school gigs. What a buzz that was, I was grinning for weeks! I switched to playing the tenor sax and still loving it.

The lessons are always packed with new ideas and different musical styles. Mark is a fantastic teacher, not just because of his incredible enthusiasm and talent for the sax but because he understands what different people want to get out of learning to play.

For me that is jamming and improvising. At the end of the working day to get home, pick up the sax and be able to spend twenty minutes blasting out some riffs is a great feeling. I only wish I had walked through the doors of years ago."

Dr Chris Frost Academic

---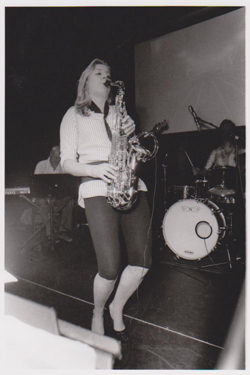 Sax is a fantastic establishment! It is very unique in its teaching methods, focusing more on training your ear, which is great for all jazz, blues and funk styles.

I have absolutely no regrets about joining the Blowout Sax School and I would recommend it to anyone who has a passion for music and wants to improve their level of play.

I had forgotten how much the saxophone means to me and I thank Mark for reminding me that I am just totally, absolutely, 100% head over heels in love with it!
So....whip out the sax and play hard!

Katherine Renshaw Student

---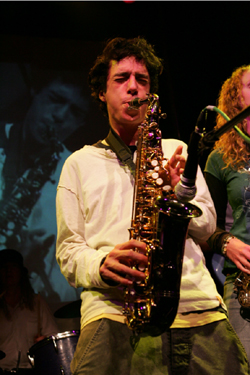 Mark Archer is a talented Sax player, he is a wonderfully flamboyant character with a big heart. He has the Blowout Sax School in Bath and also fronts The Big Blowout Band.

He does a lot for the students he teaches plus many other very creative things like writing Songs and musicals and books. He taught Oli to play the sax for which we are very grateful as it has become Oli's very expressive art form which he loves.
Oli Roy's mum

---

I started playing the alto saxophone when I was twelve. After attempting to learn several instruments(that I didn't like), I persuaded my parents to let me try the saxophone. Now almost three years on I still get the same enjoyment of learning it as I did in my first lesson.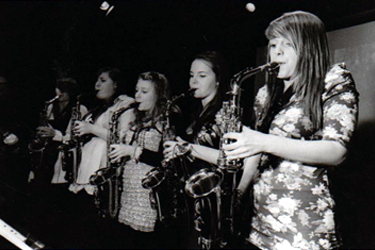 I always look forward to lessons with Mark as he has made them enjoyable with no music scripts and for me in particular no grade exams.

Just learning by ear, which is simple but is the best way to learn an instrument. I have played the classics like 'Baker Street', to 'Watermelon Man' which I played at a Blowout Sax gig. Playing the gig was the most amazing experience I had only dreamed about.

Natalie Cottrell. aged 15

---

I had always wanted to play the sax when I contacted Blowout on a bit of a whim but it's been one of the best things I've done! I'd only been playing for about eight months when I was plunged into a small solo at the Blowout gig and after conquering my nerves, loved every minute of it!
I'm not only learning to play the sax, I'm also learning to listen to, and experience, music in a completely different way. Mark's teaching style is fantastic and it keeps you focused and motivated. I would highly recommend Blowout Sax!

Sonya Chowbury Mother

---

If you want to learn to play a beautiful instrument which can make the most amazing range of sounds, enjoy fun-filled lessons which allow you to make rapid progress, and play with enthusiastic horn blowers on stage with a band, then I'd encourage you to join the Blowout Sax School. Surprisingly quickly you'll be taught to play the saxophone to a level that gives great satisfaction and enjoyment. The unique teaching methods do not require a previous ability to read music, and encourage careful listening and mimicking of the sounds and styles of past and current masters of the instrument.
You'll play a variety of music, from reggae and ska to jazz classics, from rock to contemporary sounds from all around the world. The lessons are huge fun with enthusiastic teachers, and the regular school gigs offer the opportunity to show your prowess with other horn blowers in front of an audience.
I myself started from an entirely non-musical background, and have now been taught to play well over one hundred tunes of many different styles, and to jam with other saxophonists. My teacher, Mark, has an infectious enthusiasm which pervades the whole school, and organises trips to attend concerts by some of the great current horn blowers, and other events where friendships can be made. Most of all though, you can be sure of having fun, and will surprise yourself with your ability to play the beautiful instrument that is the saxophone.

Dr Dave Dymock

---

My first ever Blowout sax lesson was a birthday present from my parents six years ago but In that one lesson, I learned how to play around 20 notes on the sax and I was hooked. Blowout's easy learn technique means that most of the learning is done by ear with influence from CDs provided by the school, with the visual aid of written alphabetical notes. This makes learning the sax much simpler than learning the notes off a stave and helps you to enjoy playing the sax from the word go.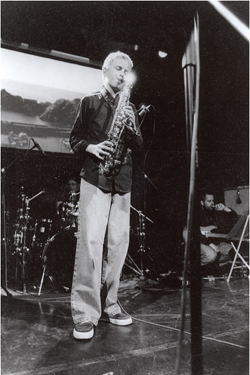 Mark has helped me to find new areas of music which I never knew of before that I really enjoy playing and listening to for example my all time favourite tunes, 'Take Five' by Paul Desmond, and 'Jack's Back' by Maceo Parker.
Around twice a year, a gig is held, catering for players of all abilities, so everyone gets the thrill of playing in front of a live audience. 'Polperro' live was nerve-wracking. It got better as I was playing it. Afterwards I was relieved but it was a thrilling experience.

Joel Flint

---

When Mark asked me to write a testimonial for Blowout Sax, I immediately said "yes" ! How could I not, when learning to play the alto sax there has been so much amazing fun, enabled me to meet so many new people and be party to holding a world record! The fact that I'd no idea what a testimonial entailed, seemed a small matter but then, relaxing on holiday a few days later, I worked it out.
Unfortunately, Mark's been waiting rather longer for me to finally write it down in a legible form!! Creative types eh?! Anyway, here goes...

As a complete rookie to the instrument, but with a similarly complete love for the way that it sounded (all the great pop sax solos from the 80s are in my CD collection somewhere) I picked up the Bristol yellow pages one Saturday morning (almost 9 years ago I think) and tried to find a teacher.

At the time, Blowout Sax was the only obvious advert, and clearly streets ahead of the field when it came to marketing. I called, and listened to the zany message I now know so well, asking me to leave my details with the promise that someone would get back to me. Wondering what on earth I was letting myself in for, and just as I'd reluctantly resigned myself to having to ring every other teacher listed to find out what instrument they taught, Mark phoned back. Nervously, I explained that I didn't have a sax, didn't know which one I wanted to play but loved the sound of the tenor, and added that I had played piano and recorder as a kid if that helped.

He put me at ease straight away, explained that I didn't need any musical knowledge, that there were four saxes, and that they usually started people on the alto as that was the easiest one to learn on. If I wanted I could try out and hire an instrument on a weekly basis, and if I liked it and wanted to buy one, I could put the rental money towards the cost. Not only that, but we were getting on so well that he decided there and then that he was going to teach me himself !
The rest as they say, is history (although if you want the real truth, ask Mark!). By the end of the first lesson he had enabled me to get the reed mastered (something I remember giving up on when I tried the clarinet at school). Within six weeks I'd bought my first instrument, three months later I started playing in a local Bristol band (the bassist had heard me practicing and asked me to stand in for their regular player), and a few months later a spot in the Blowout Sax Concert gave me a chance to play with and meet more Blowout Sax pupils and teachers; a great reason for learning to play in a school.

Mark's teaching technique, encouragement to learn to improvise at an early stage (something that classical training doesn't do) and further opportunities to perform in public all gave me the confidence and enthusiasm to pursue my dream of learning to play and to replicate some of those '80s sax solos that I knew and loved so much. Compliments from audiences (and other musicians) followed and today I'm also playing as a regular musician and soloist with the Bath based Classic Soul Band; a contact that also came through my links with the school.
Remarkably for me, I'm also still playing and having lessons. Why the latter? Well, even after all this time, I still love having them. I've been able to easily switch and mix teachers if I haven't been able to make my regular lesson slot, and Berry is now helping me to find the self-discipline that I need, to learn and practice my scales so that I can work out tune and harmony parts in the band.

I'm not even sure that I want to part with my alto any more, only to master playing different musical styles, and besides, I've also discovered that my arms are too short to play the tenor or the baritone! ...Which means there's only the most difficult one left, and I know that if I want to do it, there's a Blowout Sax teacher there to help me. I can't rate the school and the team there highly enough. So if you want to give the sax a go, need a new focus in your life, or to increase your circle of friends, don't think twice, pick up that phone and call them!

Katherine Howie



<!- Mr Blowout Sax Blog Button ->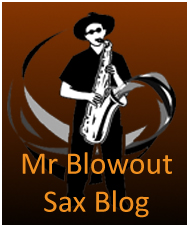 <!- Licensing Button ->