Profile - Oscar Archer



Oscar Archer was taught the Saxophone from Eight Years old by the the founder of Blowout Sax, Mark Archer. After being inspired watching his Dad (Mark Archer), break the Guiness book of world record for most saxophonists playing in unison in 2004. "I remember being amazed on what you can learn within the first lesson, I'd played Piano for a few years prior, but I hadn't even got half the joy in those years than I did in one lesson of playing the Sax".

Being the first teacher at Blowout Sax that has learnt the instrument purely through Mark Archer's 'Saxophone Tab' method of teaching, Oscar passionately preaches how successful 'Blowout Sax: The Revolutionary Approach' can be for both Alto and Tenor saxophonists at a variety of stages.

After performing at multiple sold out Blowout Gigs at The Chapel Arts Centre, Oscar got inspired to venture down the teaching path after watching his Dad's students perform with such passion. Often speaking to them afterwards and hearing the magic of how playing the sax helps peoples day to day lives, Oscar wanted to make that kind of positive impact on society as well.

After successfully finishing Sixth Form, Oscar travelled to Vietnam with his Alto saxophone as his hand luggage. Venturing around bars and clubs, jamming with house bands and being paid in drinks, it taught Oscar how to hone his tone in an foreign, humid environment, and how to communicate with people through music when you can't speak the same language. Also being asked to play 'Careless Whisper', with relentless frequency!

Upon returning to Bath, Mark Archer studiously began teaching his son Oscar on the art of Teaching. Years later Oscar now successfully and joyously teaches a wide variety of Blowout Sax students from 9-72. Each Lesson brings a new life experience and more conversations through music.



<!- Mr Blowout Sax Blog Button ->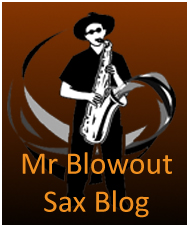 <!- Licensing Button ->