Mark Archer's Favourite Live Performances



Lou Donaldson
This man swings his axe with an almighty boogaloo groove. He has a distinctive voice on alto with a solid be-bop phrasing drenched in the most soulful funk sound. His is a voice which is direct, stylish and definitely unique to Poppa Lou D.
At the age of seventy-seven, the stellar presence of Poppa Lou D arrived at London's Jazz Café where he was greeted with rapturous applause. He launched into his playing. And suddenly the Café was full of the sound of Lou D. It was the sound that I'd heard on record and taught in the School and yet it spoke to us all so simply and conversationally. His technique was strikingly effortless and very precise. Lou himself was quick to grin and was a very together funky old dude.

Manu Dibango in Concert
We saw Manu and his 'gang' live on stage with the London Community Gospel Choir at the Cheltenham Jazz Festival 2001. The mix of the Manu's singers and the choir of 21 years standing sounded like a single instrument. It was obvious that the singers were united in their spiritual and musical faith. As an original choir member Jenny Latouche noted: -- 'you can't fake it. It's easy to sing something and sing it well, but when you sing and have belief, as we do, it adds something to your sound.'

That huge sound fused with Manu's charisma through his voice, silver sax and smile over African vibrant rhythms uplifted and took us to an elevated plane, on a Sunday afternoon in Cheltenham Town Hall.

Manu's secret of successful performing

The spontaneity of Manu Dibango's performances is the product of hard work and careful planning. Every detail of the music is guided by Manu's intense vision.

And we saw his at the London's Jazz Café 2008 which was a good gig but never came close to that experience in Cheltenham.

The Rhythm King of the Sax - Sonny Rollins
Three times seen him twice in London and once at The Forum Bath, I've seen Sonny Rollins in live performance and I have always been struck by his muscular and powerful tone and whirlwind movements, as he swings the horn through the air. With astonishing energy he just plays and plays and plays.
Even as one of the 'grand old men' of the saxophone he is dynamic as ever, improvising endlessly, pacing the stage searching for the elusive 'sweet spot.'

Jan Garbarek
Jan Garbarek in concert is a must-see. I've seen him four times over 14 years and each time his precise technique, perfection of note placement, and his very, very personal Scandinavian sound has transported my imagination to a timeless place. Part of this magic is Garbarek's choice of themes that are simple, folk-like, and unforgettable. Garbarek's improvised soloing often includes very ethereal and subtle phrases before returning to the main themes of the composition. Garbarek's double bass player Eberhard Weber, an Obelix look-alike, produces an amazing sound on electric double bass together with Garbarek, combine to produce their unique sound.

Maceo Parker -- Mr Funkoverload Showman extraordinaire Maceo launched his famous catchphrase '2 per cent jazz, 98 per cent funk' on his live album Life on Planet Groove. He keeps to his funk groove by ceaselessly touring over 320 days a year bringing his top notch, 'skintight' band to the masses.
As Maceo puts it: 'I like going where people like me. They like me everywhere, so I like playing everywhere.'

I found the truth of that when I witnessed Maceo both times in a three-hour marathon 'stroking of the almighty groove' at Bath's Pavilion. Using his heady mix of hypnotic music and dance, Maceo relentlessly cajoled the crowd to enjoy themselves. And they did. As one newspaper review in the USA put it -- 'Hurricane Maceo blew through, delivering a multihour non-stop barrage for an audience that danced itself into a frenzy before the second song was over.'

Andy Sheppard at St.Michael's Hill
Have seen Andy countless times, as he is the local Saxophone king of England, but this concert was truly astonishing. He was promoting for me his best and most contemporary album called 'Nocturnal Tourist', and his display of musical ability and musicianship was breathtaking. You see Andy had created all this music himself. The concert started with a distant sound of playing, which grew louder as Andy walked through this church playing, just him and an energetic French drummer through the audience towards the stage. Spellbinding as was the next two hours, using every facility the sax has to cast a spell on big contemporary grooves, simple themes were laid and then the embellishments were laid on top. The music had a world journey feel, from Africa to the far East with additional French music all in the mix bubbling away with recorded samples from his travels. The CD is superb and live it went one step up again. Electric performance.

Acoustic Ladyland
Finally saw in Bristol 2009 Acoustic Ladyland to promote 'Living With Tiger'. Pete Wareham's sheer energy and drive is immense and this was a powerful display of brilliant themes, wild tricks and powerful high notes.

The Skatalities
At Bath's Komedia club 2008. Sadly there is only a handful of the originals left Lester Sterling and I was there to see one of the Blowout Jamaican Kings of the Sax, Cedric 'IM' Brooks. There was a good crowd all dancing and having a grin and definitely some high points notably 'Guns of Navarone' and 'Al Capone'.

Jazz Jamaica
I have seen many years ago in a smaller line-up at The Pavilion and in big band format too at The Cheltenham Festival. They cherry-pick the marvelous material on offer and the top musicianship is required to perform to the very highest standard .They even featured Juliet Roberts (Working Week) singing on a couple of jolly bop-along tunes too.
This is a sample of other acts I've seen live and enjoyed but not being a hard-core jazzer haven't quite touched my inner soul and haven't given me the goose-bumps which is not to say they won't for you!

Courtney Pine
We saw Courtney wearing a super-cool outfit in 1993 at a jazz festival at Alexandra Palace and years later at the Cheltenham festival. Awesome saxophone magician who produced every trick with seemingly consummate ease especially with his circular breathing - even walking into the audience. He still couldn't wake me friend though who had fallen asleep though!

Dave Sanborn
Also seen at the same festival at Alexandra Palace and years later at the Cheltenham Festival. Sanbourn has for me the quintessential Amercan sax sound. For me his standout tracks are 'Lisa' and 'Lesley Ann'. His accomplishment on the sax is incredible as he plays almost exclusively in the high and altissimo registers (superhigh) and makes this seem normal and believe you me it isn't! Top band and showman once you've heard his tone you know it is Dave Sanborn.

Joshua Redman
Joshua at the Cheltenham Festival came out in a maelstrom of accolades. Some of his tracks are great live especially 'Can a Good Thing Last Forever' and 'Riverside'. As long as he's delivering a melody, then like a lot of saxophonists they display incredible virtuosity but the tune disappears into a storm of notes.

The Brecker Brothers
Seen at Alexandra Palace and The Forum. Electric loud and superjazzy - interesting especially as Michael used an Akai windblower and sounded like all sorts of instruments even an electric guitar. Brother Randy on trumpet producing that American jazz fusion sounds. Great entertainers, but few tunes remained in my head after.

Branford Marsalis
The Forum Bath. Branford Marsalis first came to my attention on Sting's first and second solo albums, 'Dream Of The Blue Turtles' with his exceptional playing on 'If You Love Somebody Set Them Free' and shone too on his follow-up 'Nothing Like The Sun'. Seen in 2009 at the Bath Festival two excellent stand-out tunes were 'Ruby And The Pearl' and 'Aunt Hangar's Blues'.

Ronnie Scott
As famous for his quips as his playing,but a top man who played on The Beatles 'Lady Madonna.'

Also in the days before becoming super about the sax as a pop man I remember seeing a number of great acts. Dire Straits, Eurythmics, Springsteen, The Rolling Stones, John Martyn, Joan Armatrading and UB 40.

Dire Straits
I saw Dire Straits in Brighton on 'The Love Over Gold' tour on their way to super league success, and loved their music. They invariably incorporated the sax, and one of my best musical memories from that gig was seeing them playing 'Goin' Home' (from the soundtrack from the sublime film 'Local Hero') as the final track of the encore as the lights came on. There they were, top musicians immersed in a full-on tear up.
For the studio version Mark Knopfler employed the very great late ace US Tenorman Michael Brecker on Goin' Home. What a warm fat tone!
Michael Brecker felt there was 'some kind of special connection between drummers and saxophonists. There is some kind of umbilical cord. Playing saxophone is an intensely time-orientated experience-time meaning rhythm -and the rhythmic possibilities in any solo context are enormous. A lot of that is tied into the drums. Generally, I think most sax players listen to drums first. That's true.'

Eurythmics
In 1986 at Le Palais Des Sports in Toulouse, I happened to catch the Eurythmics in concert. Wholly unexpectedly it became the greatest concert that I had seen up to that point.
Dave A. Stewart's usage of the tenor sax to repeat the brilliant vocal melodic hook over and over worked perfectly. The dude who played live was on fire on the tenor sax and on the 'mississippi sax' i.e. the harmonica. Annie and Dave were the world's number one band at the time and deservedly so.
Annie's charisma, showmanship and powerful voice coupled with Dave A. Stewart's superb direction of the finest session musicians created a relentless flow of spine-tingling musical moments. On 'Thorn In My Side' the Tenor saxman Martin Dobson opens a sax break at the three minute point to take the song to a great middle eight drop and then on for the coda where there is another great combination -- sax and harmonica -- duelling the song out.

Bruce Springsteen and Clarence Clemons - E Street Band
Springsteen in concert is unbelievable. His driving energy, enthusiasm and inspiration epitomises the American dream. I saw him at his zenith at Wembley in the mid 80s with the musicians of the E Street Band who are masters in their own right too.
This is where I best remember 'Born To Run'. As the music momentarily de-crescendoes, Clarence 'The Big Man' Clemons, Springsteen's very big axeman, fires up a pivotal saxbreak with southern yakety-yak King Curtis style fast tongued phrases. The music concludes with a sequence that builds up and up to a long held high note. This sax statement takes the song all the way to its final destination.

John Martyn
I saw John a couple of times live at Bristol's Colston Hall, Birmingham and Nottingham and at times he was remarkable. Originally inspired by Pharoah Sanders he incorporated lots of sax parts into his live gigs and albums. Check out some of Tony Coe sax on his famous album 'Solid Air' and Colin Tully the saxman on his later albums especially on a tune called 'Angeline', what a standout track.

Joan Armatrading
Seen Joan Armatrading's 'Love And Affection' Live on a number of occasions is one of the most beautifully crafted songs which depicts that aching plea to be truly loved. I have seen Joan Armatrading three times in performance and she always sings it early in her set as it lays down a marker of her magnitude as a musician, singer, songwriter and arranger.

On a live recording of the song there is an alto sax solo by Lon Price which movingly re-enforces the emotional message of the song -- the ache and desire to be in love with the partner of one's dreams.
The sax enters with two glorious long high phrases followed by a third phrase which swoops high then runs down to the coda where the Sax ripples in the background during the marvellous long coda fade. The song is a masterpiece of pop songwriting, perfect from the first to the last note.
There are sax solos in other songs by Joan Armatrading such as 'Your Letter' for example. However, there is a truly classic sax solo in her underrated song 'No Love' from 1981. Midway through that master session saxman Mel Collins explodes a sax solo that produces those sacred musical tingles.
The sax appears again on the coda as the response to the 'No Love' question, then plays the last phrase to climax the tune with a last long held note over the guitar riff.
Collins was the British sax session player since he produced many classic sax pop miniatures including 'Old And Wise' by The Alan Parsons project and on The Rolling Stones 'Miss You'.

UB40
From the moment Brian Travers plays his tenor sax with that heavyweight hook in both the higher and lower octaves on the opening to 'Food For Thought' all sax lovers are entranced. He plays very melodic fills behind the bleak vocals. He continues with a solo lashed with reverb echo/dub style. The sax hook is repeated often enough to keep the main theme of the song in the head.
Having seen UB40 live in 1987 in Montpellier France I can confirm that, when they are on form they are a great act. On '1 in 10' Mr Travers again repeats another fabulous hook over and over throughout this socially aware message. Great and infamous Pop Sax.

Other more offbeat acts that I saw that were entertaining and were saxmen in their very original way were Jonathon Richman and Ted Milton of 'Blurt.' As well as jazzers like Pharoah Sanders at the Trinity Bristol, Ronnie Scott playing sax himself and Tommy Smith.



<!- Mr Blowout Sax Blog Button ->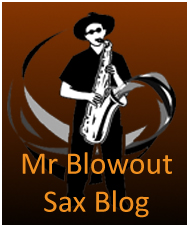 <!- Licensing Button ->